Investor Relations
Al Badia Cement Shares Listing Ceremony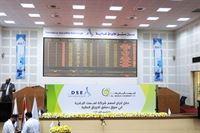 Al Badia Cement Shares Listing Ceremony
On Tuesday 15/10/2019, Al Badia Cement Company celebrated shares listing in a ceremony held at Damascus Securities Exchange, under the patronage of H.E. Mr. Riad Abdel Raouf, Deputy Minister of Finance, who stated that Al Badia shares listing is a sound step in the development of the Syrian economy. He congratulated Al Badia Cement Company and invited businessmen and companies' owners to change to joint stock companies.
Dr. Abdul Razzaq Kassem, Executive Manager of Damascus Securities Exchange, said that the listing of Al Badia Cement Company shares is an important event and an added value to DSE; as the company enjoys a huge capital and an important opportunity for the company to trade its shares, pointing out that DSE is working on listing two other companies during next year.
In his speech Mr. Khaled Al Sawaf, CEO of Al Badia Cement, said that "The company's listing in DSE is in the interest of the shareholders. The company has been operating transparently and discloses its works; and has achieved a remarkable growth since 2017 despite the losses incurred by the company due to the force majeure during the crisis years.
Al Sawaf added that Al Badia Cement listing is an indicator of the confidence in the opportunities available for the Syrian economy, its ability to recover, and a factor to motivate other companies to change to joint stock companies and join DSE being the best channel to attract Syrian capital, activate the national economy and incubate investments necessary for the reconstruction phase.
An exploratory session was held on the same day with no price limits to determine the indicative equilibrium price of the company's share.
Contact
Al Badia Cement (JSC)
P.O.Box 34330
Damascus - Syrian Arab Republic
Tel +963 11 2118562
Fax +963 11 2140095
General contact
info@albadiacement.com