About us
Our Vision, Mission and Values
Our Vision
"Quality of Excellence"
Our vision is derived from our deep understanding of excellence achievement importance in everything we do, in order to gain the appreciation of our clients through the quality of excellence on the level of products, services and working conditions or whatever we offer, like opportunities and possibilities to obtain sustainability.
Our Mission
To achieve value for our Al Badia Cement customers, shareholders, employees and the community through commitment of offering the necessary support to enhance the quality of our products and services.
For Our Customers: To achieve the highest levels of product and services quality, and to ensure customer satisfaction in our work fields.
For Our Society: To be one of the best national companies and do our business in consistency with our social, and environmental priorities, provide fair economic opportunities, develop our society and sustain its resources.
For Our Shareholders: To gain remunerative returns through continuous appropriate growth and opportunities.
For Our Employees: To always work on enriching their lives and supporting their vocational and personal skills by offering fair income and inventing opportunities for advancement.
For Our Suppliers: To remain the best agent for our suppliers through respecting agreements, and keeping sustainable and fruitful business together, as well as offering equal opportunities to all suppliers to gain mutual benefit.
Our Values
Excellence in performance through Superiority, Teamwork, Respect and Integrity.
About us
Al Badia Cement (JSC) is a joint-stock company emerged from a joint venture of reputable international Companies and local investors , with annual licensed OPC production capacity of 3.2 million tons and authorized capital of 9.760 billion Syrian pounds.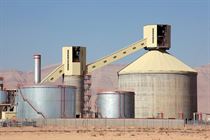 As of the second quarter of 2011 the company started its production process through its first production line, and with highest specifications. The company started meeting the local cement market, as the company enjoys an important strategic location, whether in its being closer to the biggest cement markets in Syria, Damascus, Damascus countryside, middle and southern regions, or in its being close to the markets in the neighboring countries