Products
About cement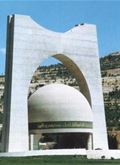 Cement is a crucial building material. When mixed with water, sand and gravel, it creates concrete – one of the most used construction materials worldwide. In modern society, one can hardly imagine building houses, bridges or tunnels without concrete – a strong, durable and flexible material that can have any shape.

The basic type of cement is called Portland Cement, but there are many other types of blended cements, masonry cements and special cements such as white cement.

To view photos please, click on the headline above.

Links and downloads
Arab Union for Cement & Building Materials
General Establishment for Cement & Building Materials