Sustainability
Economy
We will meet the growing needs of the market by providing high-quality products and services and thus contribute to the development of the construction sector in our country. This will also create an opportunity for Syria to become a cement exporting country.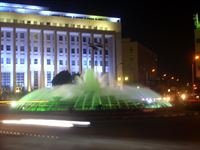 Central Bank of Syria
Additionally, we will be creating jobs and professional development opportunities in the country's labor market. We shall also contribute to the country's development as a taxpayer since the project is one of the greatest projects in Syria, and also through the relations and contracts that would be fruitful for our suppliers and national economy in general.
Sustainability